Reducing site vulnerability and risk indexes for the environment and the population
Seveso sites: assessment of integrated safety-security hazards and risks and related domino effects
Chemical and process plants, energy facilities, oil and gas installations and industrial facilities are the potential target of physical and cyber-attacks. These may trigger cascading 'domino' effects such as the release of flammable, explosive, toxic or noxious substances into the environment and accidents in other areas of the plant not initially attacked.
Security-related threats could affect coasts, rivers, lakes and densely populated areas at regional and national scale. The Major Accident Reporting System reported 557 accidents in EU for the period 1990-2020; 23 of these accidents resulted in domino effects causing €1.1 billion of damages and €3.2 million of environmental damage. The European Programme for Critical Infrastructure Protection promotes the prevention, preparedness and response to terrorist attacks to energy and transport installations.
Integrated safety/security assessment of hazard and risks and related domino effects in Seveso sites.

TOOL PARALLEL TESTING IN 3 INDUSTRIAL
DEMO SITES
Costieri D'Alesio, Livorno harbour area, Italy. Bolton Group (Manetti & Roberts), Calenzano (Florence province), Italy. Wilhelmsen Ships Service, Rotterdam harbour area, The Netherlands.

IMPROVEMENT OF THE SAFETY-SECURITY
ASPECTS
DEMO sites vulnerability and risk will be reduced trough the tool application improving the safety-security status.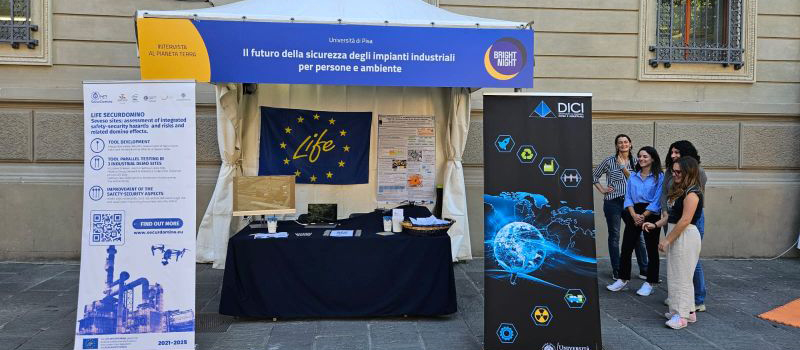 29 Settembre 2023
LIFE Securdomino takes part in the Researcher's Night event organised in Pisa. The European Researchers' Night   is a…
Università di Pisa is the Project coordinator, supported by the others partners.